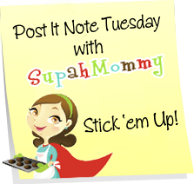 Tuesday's here and I'm taking a few minutes to post this quickly, at the speed of light, if I may exaggerate. I will get back to my regular schedule of elaborate posting and maniacal commenting soon, I promise. Once, I am back from my vacation. There is a lot to be done before I leave unfortunately, which leaves me with little time. For now, all of you can whet your appetites with my lovingly brought up and patiently nurtured post-its!!!
To know more about this, go to the awesome

Supahmommy

. I'm sure she'll take you under her wing!