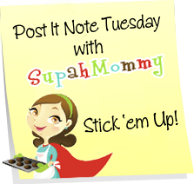 I am excited to a somewhat unknown degree to be making these cute little notes and posting them. I swear that making them is one half of the excitement and the other half is all the comments you guys leave showing your enjoyment of them!
Though I only have a few of them today, I assure you they came straight from my heart.
I don't know if you guys know about my somewhat obsessive nature but I seem to have found something new to obsess about. I promise you will be hearing a lot more about this in the coming few days. Let's see if you guys can guess what this obsession is!!! Au revoir!
If you want to know more about post-it-tuesdays go to the lovely

Supahmommy